Marvin Fiberglass Windows Denver & Centennial CO.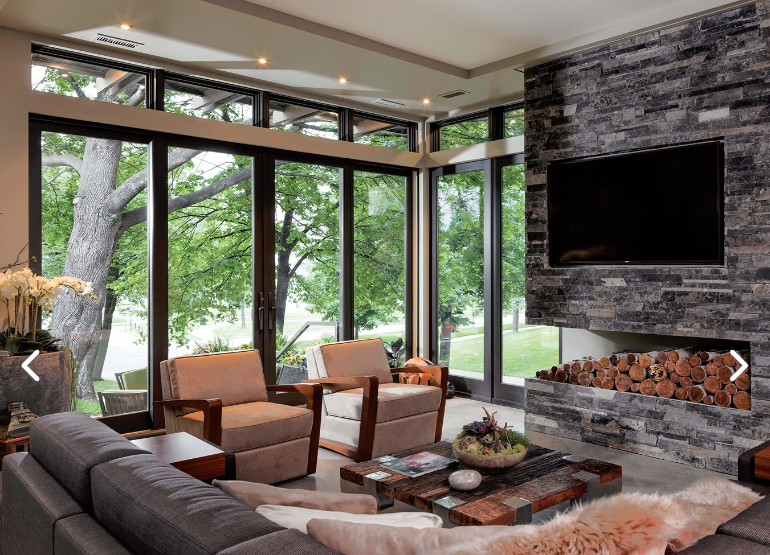 Why choose Marvin Fiberglass Windows for Denver & Centennial homes?
Marvin fiberglass windows are made with Ultrex®, a pultruded fiberglass Marvin patented that outperforms and outlasts vinyl, roll-form aluminum and other fiberglass composites.
Marvin uses Ultrex and their proprietary pultrusion process to manufacture high-demand windows and doors that endure all elements without showing age or wear.
Not all composite windows material are created equal
Some companies use materials like sawdust and vinyl to produce a composite material with fundamentally different properties and performance values.
But Ultrex is different. Its material makeup contains a high density of woven fibers bound by a thermally set resin, making it more resistant to pressure and temperature than vinyl-based composites.
Ultrex's enhanced performance over time and exceptional durability make it an ideal choice for customers seeking a strong, versatile, and long-lasting window or door.
Benefits of Marvin Fiberglass Windows
Highly impact resistant and more rigid than vinyl and vinyl/wood composites
Expands and contracts at virtually the same rate as glass, so it works with glass rather than against it
Maintains shape even in harsh climates with regular exposure to temperature variation, wind, rain, or snow
Resists chipping, chalking, or fading, even in darker hues
Non-conductive and non-corrosive
Engineered to maintain its look even years after installation
Marvin Elevate® Fiberglass Windows Collection
Previously known as Integrity Wood-Ultrex®, Marvin Elevate windows feature their proprietary Ultrex fiberglass exterior paired with warm pine wood interiors.
Elevate products strike a perfect balance between enduring style and unmatched performance. The warm wood interiors can be factory finished, stained, or painted to match a wide range of architectural designs. The fiberglass exterior provides strength, durability and high-performing thermal properties that excel in harsh climates.
Proprietary fiberglass exteriors stand up to all elements, outperforming and outlasting vinyl, roll-form aluminum and other composites. Warm wood interiors add timeless beauty, while resilient, long-lasting fiberglass stays strong in even the toughest conditions.
These Marvin fiberglass windows offer warm wood interiors, on-trend styles, and much more. Marvin has carefully considered every feature and option so that your windows can make a statement or blend into any decor.
Windows in the Elevate Collection: Awning, Awning Narrow Frame, Bay, Bow, Casement, Casement Narrow Frame, Double Hung, Double Hung Insert, Glider, Picture, Round Top, and Specialty Shapes.
Marvin Essential™ Fiberglass Windows Collection
Previously known as Integrity All Ultrex®, Essential windows feature strong, durable fiberglass exteriors and interiors that are virtually maintenance-free.
The Marvin Essential collection brings together design, quality, and performance in one streamlined offering. Strong, durable fiberglass exteriors and interiors are both striking and virtually maintenance-free. Simplified options make the order process straightforward, while clean lines and versatile styles make it easy to meet project demands.
With narrow profiles, clean lines and simpler features and options, Essential makes it easier to choose and order.
Windows in the Essential Collection: Awning, Casement, Double Hung, Glider, Picture, Round Top, Single Hung, and Specialty Shapes.
Marvin's Energy Star Qualified Solutions
Energy-efficient windows can help reduce your utility bills and make your home more comfortable. Marvin offers a variety of window and door options that help you achieve long-term performance and energy cost savings, in any climate.
Visit this link for a list of ENERGY STAR qualified products.
Marvin's Proven Strength
The facts prove it. Ultrex fiberglass is eight times stronger than vinyl and three times stronger than vinyl/wood composites. It resists fading, chalking, peeling and cracking, giving you unparalleled strength and durability.
Marvin is constantly testing Ultrex to prove it's the toughest window material available!
Expansion and Contraction
Ultrex expands at virtually the same rate as glass which means our windows stay tight and true making them resistant to leaks, seal failures and stress cracks that can compromise energy efficiency and long-term performance.
Get the Marvin fiberglass windows you want without high-pressure sales!
Schedule an appointment today – Give us a call at 303-220-5990 or contact us online.
We also sell Marvin Fiberglass Patio Doors!