Therma Tru Fiberglass Patio Doors Denver and Centennial CO.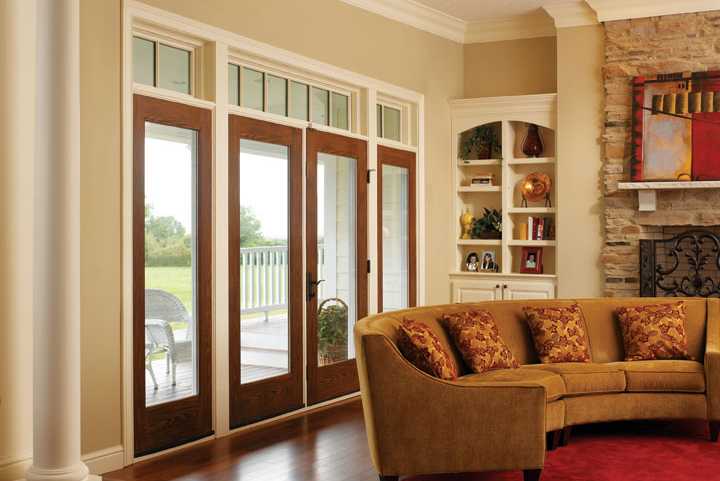 Therma Tru fiberglass patio doors in Metro Denver and Centennial CO.
Therma-Tru Fiberglass Patio Doors are a wonderful option when choosing a new patio door for your Denver area home! Since pioneering the fiberglass door industry in 1983, Therma-Tru has become an industry standard with high style, high-performance products. That tradition of innovation and superior engineering in design continues today.
The look and feel of real wood.
Realistic wood grains that are virtually indistinguishable from high-grade wood doors, thanks to Therma-Tru's AccuGrain® technology. Look at it. Touch it. Knock on it. It feels like real wood but it won't warp or rot like a wood door, or dent or rust like a steel door.
Built with a polyurethane foam core, Therma-Tru Fiberglass Patio Doors insulate against cold and heat for exceptional energy efficiency.
With very little maintenance, these beautiful doors can bring your home years of durability, curb appeal and energy efficiency. Find out why it's the right choice for your home.
Get a Free Quote or stop by our showroom!
Therma Tru Fiberglass Hinged Patio Doors
Beautifully crafted, energy efficient, secure, and easy to maintain, these patio doors are a durable alternative to wood or steel. Choose from:
Classic-Craft Mahogany – Rich, elegant look of real Mahogany wood with fiberglass performance.
Classic-Craft Oak – A stunning first impression of deep Oak grain detail with long-lasting beauty and performance.
Classic-Craft Canvas – A sleek modern entryway that can be adapted to individual styles.
Fiber-Classic Mahogany – A rich Mahogany grain makes these patio doors a perfect complement to any home.
Fiber-Classic Oak – Few patio doors stand the test of time like a beautiful Fiber-Classic patio door.
Smooth-Star – A smooth paintable surface featuring crisp stile and rail lines like a wood patio door.
Profiles – Beautiful wood edge steel patio doors.
Traditions – Economical steel patio doors. Galvanized steel in 25 or 24-gauge steel.
Advantages of  Therma Tru Fiberglass Patio Doors
Therma-Tru fiberglass doors were the first fiberglass door on the market. There were revolutionary because they looked as beautiful as wood but performed with the durability of steel. These entry door systems are unrivaled in the industry.
Energy efficient – offer up to four times the insulating R-Value of wood.
Require minimal maintenance – won't warp or rot like wood, or dent or rust like steel.
Offer beautiful wood-grain or smooth finish looks – can be stained or painted.
Feel warm and inviting to the touch – like a real wood door.
ENERGY STAR Rating
Because of their design and construction, more than 80% of Therma-Tru door and glass options qualify for the ENERGY STAR program. Some of the features that help Therma-Tru doors earn their ENERGY STAR qualified ratings include:
A polyurethane foam core: Therma-Tru fiberglass doors have a solid polyurethane foam core which is among the most energy-efficient door materials available today.

Energy-efficient glass: Most Therma-Tru decorative, as well as privacy and textured, glass is triple-pane for reduced heat flow. Factory-coated Low-E glass options deliver exceptional energy efficiency.

Complete door systems: Therma-Tru doors and glass are engineered to work together with components like weatherstrip that help create a tighter seal and reduce air leakage around the edges.
We also sell Therma Tru Entry Doors!